Clogged pores are reasons for having blackhead and whitehead in your skin. When your skin pores remain clogged, it may cause acne problems in your skin. It's very much important to unclog the pores if you want fresh and lively skin.
Here, I am going to discuss how do skin pores get clogged and how you will treat your clogged pores.
How do skin pores get clogged?
We have oil-producing glands in our skin known as sebaceous glands that are attached to hair follicles. It helps to release a fatty substance called sebum (sometimes we call it skin oil). Sebum helps to protect and lubricate the skin and hair.
But excessive production of sebum is not good for your skin. Basically, when sebaceous glands become larger and activity increases, it produces more sebum which is the reason for having clogged pores in the skin.
Another reason is increasing dead skin cells. The more you have dead cells in your skin, the more you have clogged pores.
The most important thing is that you will get acne with free of cost if you have abundant of dead cells and excessive sebum on your skin.
How to treat clogged pores
"A clogged pore is caused by increased sebum (the oils produced by skin), dead skin cells, and dirt—stuff from the outside world, even makeup," says dermatologist Mona Gohara, MD, Associate Clinical Professor at Yale University. You know, if you can bring some changes in your beauty regime, you can unclog the pores of your skin. There are some popular ways to unclog pores of your skin
Use non-comedogenic skincare products
Noncomedogenic product means products that will not clog your pores. You know skincare products and makeup can clog your pores. If you use non-comedogenic skincare products, the pores of your face will not be clogged.
Use exfoliating product
There are two types of exfoliants available in the market, Physical exfoliants and chemical exfoliants. You can use both exfoliants one to two times per week. By the way, both are used to remove dead skin cells from the upper layer of your skin.
Don't use them more than two a week (be careful). If your skin is heavy dry, use it once per week or you can consult with your dermatologist before use that. You can use the exfoliator which contains AHAs (Alpha Hydroxy Acid), BHAs (Beta Hydroxy Acid), glycolic acid, salicylic acids.
These ingredients are helpful to remove dead cells and minimize the appearance of pores.
They help to unstick or dissolve cellular glue and thus remove dead skin cells which cause breakout and clogged pores.
For more information about AHAs and BHAs, side effects, and proper application procedures, you may check it out.
Hydroxy product
It is water-soluble so it can penetrate the skin easily. This product contains BHA also known as salicylic acid. Salicylic acid is extremely good for oily and mild acne-prone skin. This product with 2% BHA also helps to smooth wrinkles, remove redness, blackheads and make your skin bright. But you can use it at most 2 to 3 times a week. (One or two times a week if you are a newbie).
This product is amazing as it has active ingredients like Hyaluronic acid, 8% glycolic acid, and green tea. Hyaluronic acid is a humectant that will help to hydrate your skin and glycolic acid is good for dry acne-prone skin. Green tea will help you to remove dark spots. So the combination of this product is absolutely good for dry, and acne-prone skin. But, you should use it at most 2 to 3 times a week.
Wash your face two times with filtered water
You know, unfiltered water is also another reason to clog your pores and dry your skin. If you wash your face with unfiltered water for a long time, you will feel itchy and irritation in your skin. So must try to wash your face with clean and filtered water at least two times a day which will help you to unclog your pores.
Treat your acne (if have)
Acne makes your pores clogged. If your face skin has an acne-prone problem, you can use a cleanser or serum with salicylic acid, vitamin A and niacinamide.
Vitamin A also known as retinol or retinoic acid that regulates the production of sebum. Retinol helps to stimulate skin cell turnover. Since it is also an exfoliating type ingredient, it exfoliates the upper layer of the skin and helps to remove the dead cells and unclog your pores and produce healthy skin cells.
Adapalene and Retin-A (family members of retinol) are experts and super effective ingredients to treat acne and acne scars.
For more information about retinol, Retin-A, adapalene, tretinoin, side effects, and proper application procedure, you may check it out.
Salicylic acid is the form of Beta hydroxy acid. This acid is actually very helpful for oily acne-prone skin while Alpha hydroxy acid is for dry acne-prone skin. But using salicylic acid for long period can make your skin dry.
regulate excessive sebum production
If your skin produces excessive sebum it will make your skin clog. So use the products that can regulate or inhibits excessive sebum production. Again I will recommend you to use the products that contain niacinamide and vitamin a (retinol, retinoic acid). These are anti-oxidant and have antimicrobial properties. They not only control sebum production but treat your severe or mild acne.
You also can take food rich in omega-3 fatty acids like green vegetable spinach and kale, avocado, beans and nuts (almonds, walnuts), fish (salmon, sardines) flaxseeds all are very effective in controlling sebum production.
Be gentle with your face and don't scrub too much
It is very important to be gentle with your face if you don't want to make your pore larger. Too much rubbing and scrubbing can make your pores larger which will make you more noticeable.
Use charcoal mask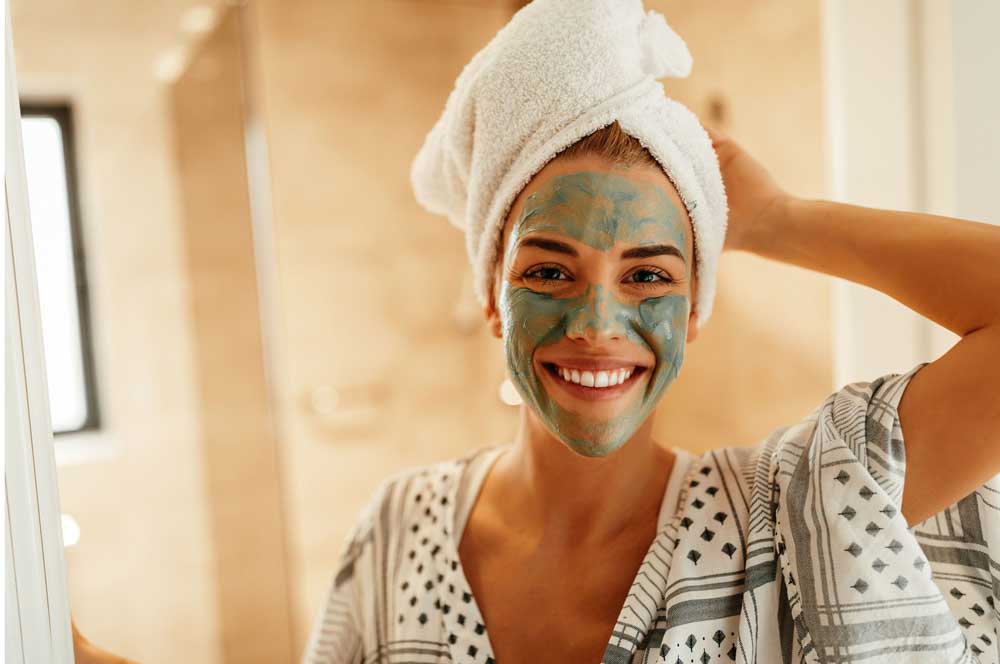 A charcoal mask is good for your skin as it can remove dirt, bacteria, and excessive oil. But it's not good for all skin type like who has rosacea. It can be harsh and make your skin irritate if you have rosacea.
Products mask
Facial Extraction
Those whose faces produce excessive sebum and dead cells- result in clogged pores, blackheads, pimples, etc. can apply facial extraction to solve this problem. Basically, it is the process of clearing clogged pores.
Apply Toner
After cleansing your face, you can apply toner. Toner helps to remove all residual impurities and dirt that are stuck in your pores after cleansing your face. Toner will help you to restore the skin's PH balance too.
Whenever you wash your face, some impurities and grime remain stuck in pores. It is very much important to remove them otherwise another active ingredient will not penetrate the skin that leads to clogging your pores again.
Use of toner on a daily basis after washing your face can minimize your pores easily.
Toner products
Neutrogena Oil- Alcohol-Free Facial Toner
This alcohol-free face toner helps you to remove all impurities without irritating your skin. It will not make your skin dry. The most important thing is that it is non-comedogenic and oil-free.
Proactiv Hydrating Facial Toner
This one also alcohol-free toner helps you to remove all residual grime and impurities without skin irritation. It helps to balance skin pH, reduce excess oil, and the most important thing is that it helps to produce healthy tissue.
Dermalogica Multi-Active Toner
This product also works the same as the above two toners. It contains aloe-Vera that helps you to hydrate your skin. It is absolutely good for oily, combination, dry, and normal skin.
Apply pores minimizing serum
On the other hand face serum is the most popular skincare product. It has some active ingredients to focus on specific skin concerns like- acne, wrinkles, hyperpigmentation and minimizes the pores as well by cleansing clogged pores and stimulating collagen production.
Serum with niacinamide and retinol can amazingly minimize skin pores. According to research niacinamide improves skin barrier function by producing proteins, ceramides, lipids other stratum corneum which is very much important for healthy and glowing skin moisturizers.
For more information about niacinamide, side effects, and why it is best for acne-prone, oily skin you may check it out.
As face serum is very lightweight, it can penetrate into the deeper layer of the skin easily and solve specific skin problems.
Serum product
CeraVe Retinol Resurfacing Serum
This CeraVe resurfacing retinol serum and 10% niacinamide really help you to minimize your pores and stimulate produce new skin cells, skin proteins. It's absolutely non-comedogenic and fragrance-free and helps to get brighter and smoother and even-toned skin.
Niacinamide 10% + Zinc 1% Serum
Wear sunscreen or moisturizer every day
The most important thing for the skin is a sunscreen that protects your skin from UV rays. When you are exposed to the sun, your skin produces more melanin and thus increases dead skin cells which make your skin darker.
Some may think negatively about moisturizers. Whatever your face is oily or dry, you should use moisturizer to make your skin prepare for the next day.
The right amount of moisturizer by understanding the condition of the skin can protect you from producing excessive oil and dead cells from the upper layer. Get the best moisturizer that won't irritate your skin and clog your pores.
So it is most important to wear sunscreen to avoid hyperpigmentation and the production of dead cells. But be sure to wash off your sunscreen before bedtime otherwise, you may experience redness, acne, blackheads, whiteheads. To get more facts about sunscreen, you may read it.