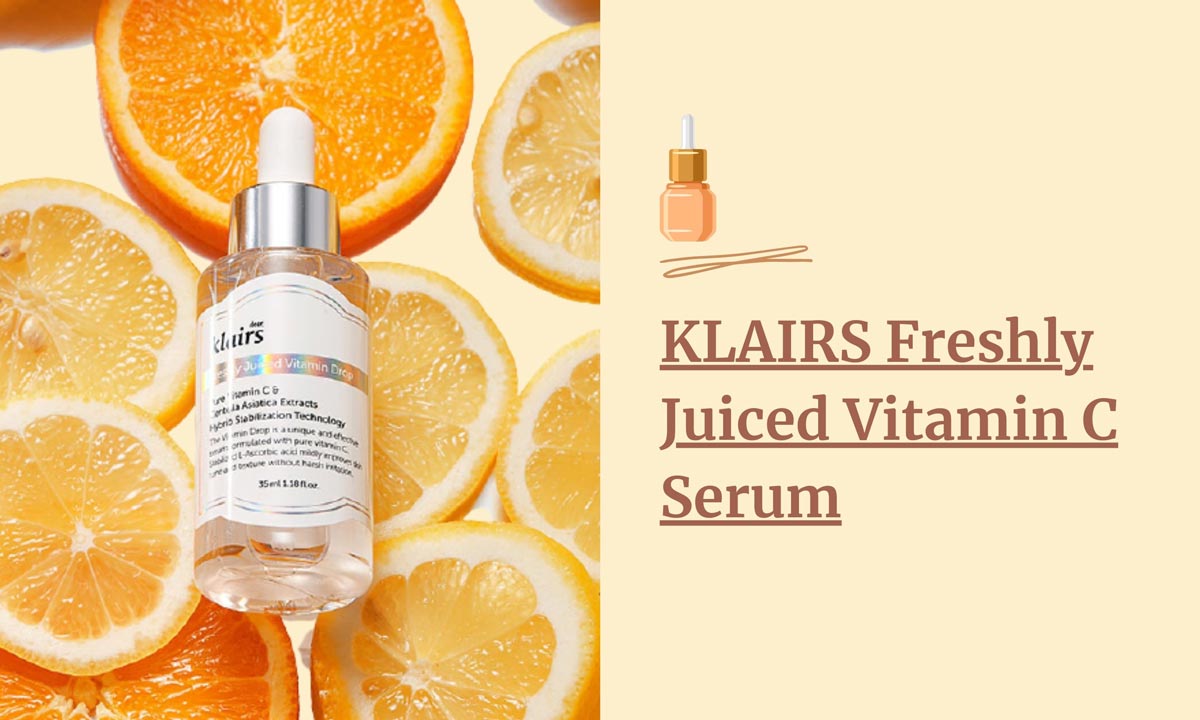 Vitamin c is an effective and key ingredient in a beauty regime. Basically, vitamin c is an anti-aging and brightening ingredient. The best result you will get is in the form of serum. Vitamin c serum can provide a fresh, clean, spotless, bright and even out skin tone. But all vitamin c serum is not good for all skin types.
You might know or not know that vitamin c has different forms and derivatives like Ascorbic acid or L-ascorbic acid (The purest form of vitamin c) Magnesium Ascorbyl Phosphate, Tetrahexyldecyl Ascorbate (derivatives of vitamin c) and so many. Sometimes more than 10% of pure vitamin c serum can irritate your skin whereas derivatives of vitamin c and less than 10% of pure vitamin c serum are gentle and skin-friendly especially good for teenagers, new users and those who have sensitive skin. To learn which derivatives and concentrations are good for your skin, you may read this.
This Klairs Freshly Juiced Vitamin c serum contains only 5% pure vitamin c that is not going to irritate your skin.
Fast fact
Product size
1.18 Fl Oz, 35 ml
Manufacturer
Klairs
Main ingredients
Ascorbic Acid 5%, Centella Asiastica extract
Texture
Slightly oily
Skin type
All
Free of
Gluten,
Nickel,
Lanolin,
Ethanol,
Silicon,
Steroid,
Artificial coloring,
Topical antibiotic,
Paraben,
And dye.
Price
$22.00 ($18.64 / Fl Oz)
Klairs Freshly Juiced Vitamin c Serum review
Klairs vitamin c serum is a 2015 Soko Glam award-winning product. You will get tones of vitamin c serum in the market. Almost all the vitamin c products are not stable means can be oxidized easily by the light and air and that's why they come in the market with a black bottle so that they can't be oxidized easily. If it happens, all your money will go in vain.
But Klairs Vitamin c serum is amazing. What makes the Klairs Freshly Juiced Drop Vitamin c serum so amazing, well the formula of this serum is stabilized means it can't be oxidized easily that's why you can see the bottle is clear.
Klairs vitamin c serum contains pure 5% ascorbic acid which is absolutely good for almost all skin types even for sensitive, dull and oily skin. If you have a dull skin tone, enlarged pores, and dead cells, then you can go with this product just use it at night and the next morning you will feel a better complexion and clearer skin tone.
Additional information
Benefits
Fades pigmentation and brown spots and prevent breakout and minimize pores, Brighten and evens out skin tone, Hypoallergenic, energize and rejuvenate the skin, Non-comedogenic and unscented
How to use

For normal, combination and oily skin

– after cleansing your face apply an amount of half of the dropper on your face and neck area and gently massage the skin and tap on it until it absorbs. Then apply moisturizer and sunscreen.


For sensitive skin

– after cleansing, you face apply toner and then take 3 to 4 droplets and gently apply it.


For extra sensitive skin

– try mixing a few drops into preferred serum or lotion until the skin is used to the product.
Tips
Must wear sunscreen, if you use it during day time.
Direction
Store it in a dry and cool place and keep it away from direct sunlight. For best effect, use it 2 to 3 months after opening it. If the color of this serum is changed a little bit, you don't need to worry. The effects of the product will not be influenced.
Why I love this product
The pH level of this product is 3.81 which is good enough for almost all skin types. If the pH level goes under 3 or above 8, those types of products can irritate your skin. So before taking any products must check the pH level at first.
Another reason that I already mentioned is that the lower concentration of pure vitamin c which is very gentle and skin-friendly. Basically, when most people use 10% to 20% vitamin c serum after 5 to 6 days in the row they can't handle it, they experience lots of problems. But in the case of this one, you can use it blindly.
This product is hypoallergenic. 91% top allergen-free product this is. Even teens can use this product undoubtedly. This is free of Gluten, Nickel, Lanolin, Ethanol, Silicon, Steroids, Artificial coloring, Topical antibiotic, Paraben, and dye.
I have pigmentation problem on my face. After applying it 26 days in the row, I feel brighten skin tone and complexion and all my pigments have faded. Even for those who have serious pigmentation problems, it will definitely reduce to 50% to 60% for sure.
Klairs Freshly Juiced vitamin drop is a slightly oily texture, so it is better for your wintertime. You don't need to change your serum with the change of season. And the most important thing, this serum pairs well with moisturizer, sunscreen and makeup.
And the final one is: this is unscented and non-comedogenic means will not clog your pores. But if your pores are already clogged then it is necessary to treat them and remove them gradually
Klairs vitamin c serum side effects
If this is your first time of using vitamin c serum, you may experience a minor tangling. Don't need to worry about that. This Klairs vitamin c serum is absolutely safe for all skin types. But it's not good to mix any vitamin c serum with benzoyl peroxide, AHAs and BHAs (chemical exfoliants), and retinol those can irritate your skin. If you want to use both retinol and Klairs vitamin c serum together, so I would recommend you to apply Klairs vitamin c serum during day time and retinol at night before sleeping.